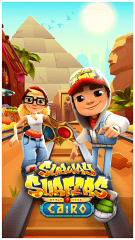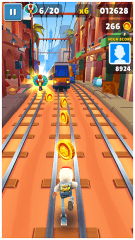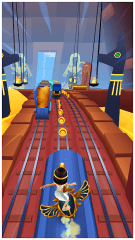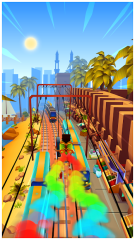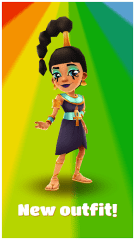 The description of Subway Surfers
Subway Surfers is one of the iconic games in the endless runner genre. Run non-stop, collect goodies and power-ups to unlock more characters. And just enjoy frantically moving decorations, trains and so forth, while getting away from getting arrested.
Gameplay
Like all endless runners, Subway Surfers makes you, well, run. Without a pause, as fast as you can you're trying to outrun big-bellied police officers, who chase you for inappropriate conduct and vandalizing public property.
While it may look unrealistic, the police chase is infinite. And it takes place mostly in subways or on railways. From mission to mission, apart from evading collision with obstacles and making high jumps, you are also expected to collect gold coins and infrequently snatch one or another helpful power-up:
Magnet. It attracts coins automatically, so you can get a break from tilting your avatar all the time.
Multiplayer. The amount of coins collected gets doubled.
Super Sneakers. A pair of sneaks that lets you run fast like an ostrich on Red Bull.
Jet-pack. Temporarily makes you an invincible flying cool guy.
Power jumper. Jump higher than the last layer of the atmosphere.
Super Mysterizier. Turns into a random goodie when grabbed.
And that's pretty much it. Keep on running, don't run into things, develop a quick reaction and collect power-ups if you can.
The game features worldwide leaderboard in which you can conquer an honorable spot if you gain an especially high score. But no multiplayer is featured in Subway Surfers, which is no surprise: it's hard to imagine what it would be there for.
If you look for something refreshing in this game, you can try unlocking extra characters. While Jake, the urbanistically dressed troublemaker, is the lead character, you can also play as:
Tricky. A trendily dressed girl, with big glasses.
Fresh. A cool kid with an African hairstyle and a boombox on his shoulder.
Yutani. Seemingly a Japanese girl, who wears a green bug/alien costume for whatever reason. She's the hardest character to unlock.
Tagbot. A robot boy with a baseball cap.
And many others.
Subway Surfers is a freemium game, but thankfully it doesn't rub its costly offers right in your face. You can accomplish game and unlock almost all of the extra content, relying only on your skills and will-power. And angelic patience.
Visuals
This is a cartoon-like, children friendly game. The visual quality is in the top-tier group, however, sometimes framerate suddenly stutters, causing you to collide with a wooden barricade/train/tunnel/whatever. Although it's not the biggest issue, starting a difficult level anew makes you a peevish grampsaurus.
Controls
Your avatar is controlled by swipes/taps. Sadly, screen-tilting isn't allowed, perhaps to avoid accusations of Temple Run plagiarism.
To download the app, you will get links to the Official Website and/or official digital markets.
What do think about this review?