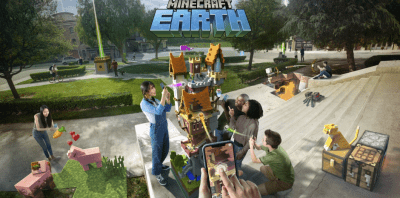 The description of Minecraft Earth
Recreating famous places of the Earth has become the favourite entertainment for Minecraft fans long ago. But in May 2019, the cult game presents its new offspring. It's named Minecraft Earth, and now it's taking over the real landscapes surrounding all of us.
Based on the core Minecraft mechanics, it will bring the cubic bricks into real life, to your streets, to your house, and into your communication. The project has been kept secret until it's almost ready for launching, and it will be sooner than you hope.
In perspective Minecraft Earth seems to do to AR the same thing that Pokémon GO once did: it gives players a reason to go outside and play. It promises a completely new level of interaction between the real and virtual world in the gaming industry.
How to Play
In its core, Minecraft Earth adds augmented reality elements to your everyday life and environment. First of all, it launches some creatures and mobs already known by the classic game. Your environment may be a tough place to survive. Meeting Minecraft predators in your life behind the camera is fun by itself, but it's only the beginning.
The most attractive part of Minecraft Earth is the possibility to craft objects and insert them into the real environment, using AR tools of your smartphones and tablets. The objects you build can be seen by other users, and vice versa. Of course, it supports collaborative building, but this time it means that Minecrafters of a certain region should appoint offline meetings, at the spot they select, and do the work in real space as well as in real time.
There's little said about its detailed mechanics, but the first releases and leaks are on their way. Minecraft Earth is too much of hype to leave it uncovered. It's already known that Minecraft Earth won't require too much from your device: Android 7 or iOS 10 will do.
And now you will have a perfect reason to walk around and look at the world through the eye of your smartphone's camera. With Minecraft Earth, you will actually see what others can't. But remember that the car approaching you in the middle of the street is probably real, so keep your real eyes open. Minecraft Earth needs you.
Is It Paid?
There's nothing officially announced about it. The game will be available to a limited number of beta testers this summer. As we can conclude from the form one has to fill to become a tester, the game will be free-to-play. It isn't stated directly, but there is a question to answer about whether you like free-to-play games. It definitely has something to do with the way Minecraft Earth is monetized.
As it requires solid performance with rich data processed and tons of storage, a single payment model is not highly probable. Rather players will need to buy extra items or materials, or get premium options with a weekly or monthly subscription.
To become a tester, you'll have to provide your Microsoft or Xbox account, your home address, and your Google/Apple account. It also implies that you have purchased the original Minecraft or Pocket Edition and have an account. You'll be notified about updates as they come.
To download the app, you will get links to the Official Website and/or official digital markets.
What do think about this review?