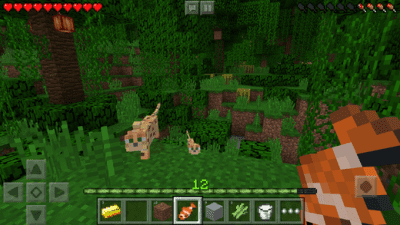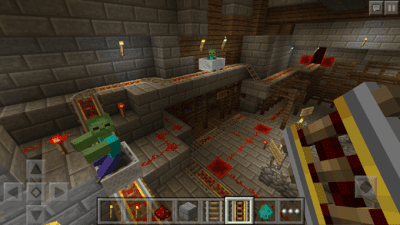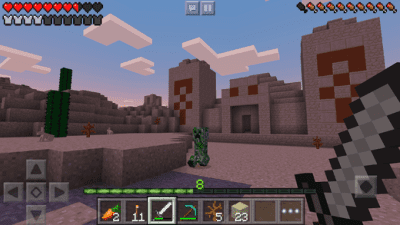 The description of Minecraft: Pocket Edition
Minecraft doesn't need special intros. This is the first full-fledged sandbox in the history of game developing. With an open endless world, incredibly wide opportunities for crafting and construction and a minimum of restrictions, the game soon became a favorite for both adults and kids.
No missions, tasks or quests, only endless spaces, and opportunities for the imagination of anyone. Developed specifically for smartphones and tablets version of Minecraft Pocket Edition is no doubt a must have on your device!
Gameplay
Like in the original PC Minecraft, players of the Pocket Edition version fall into the landscape from a variety of cubes. Players "mine" these cubes, after which they can use them to "craft" buildings and objects.
Pocket Edition comes in two modes: "Creative" and "Survival." In Сreative mode, players can fly around the game world and build with the help of an endless supply of materials. Gameplay in the "Survival" mode is slightly different. During the daytime, you can build above the ground (lay blocks to build castles, bridges, and so on), and at night, monsters appear that attack the players and can even destroy their creations. There is no story in the game, your only advantage in an initially hostile environment is creative thinking.
Minecraft Pocket Edition has also in-app purchases, but, thank the Cubic God, these are just character skins. They can be useful only for online battles, but not required.
Visuals
The Pocket Edition looks just amazing (in its own way, cubic amazingness) on mobile devices. Even with 15 other applications running in the background and with the "Fantasy" level graphics, you can notice only minor stuttering when you glide over the landscape very quickly in creative mode. For example, launched on an iPhone 6, Minecraft PE only warmed up the phone a little.
For some users, the block world can seem primitive with primitive graphics. But once you've tried, it will bring you back again and again.
Controls
Minecraft has a traditional mobile control scheme with directional arrows and a jump button in the center.
In order to interact with the world, you can select blocks with your thumb and tap/hold to set/extract them. When you get material, a circle appears around your finger, which fills as the block collapses. In the end, you also receive a signal in the form of vibration. Experienced players will notice that the blocks can be mined and placed much further in the Pocket Edition, in comparison with the PC version, which somewhat simplifies the mobile version of the game.
To download the app, you will get links to the Official Website and/or official digital markets.
What do think about this review?