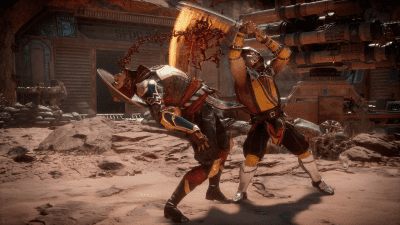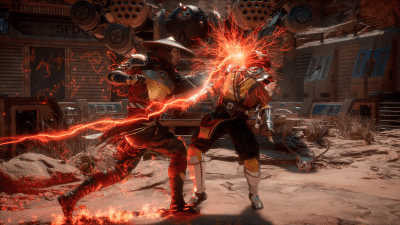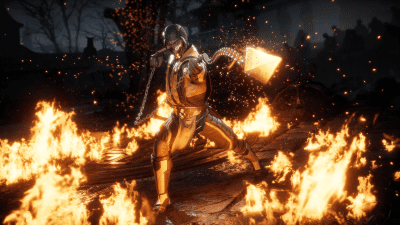 The description of Mortal Kombat 11
The Warner Bros. Company Together With NetherRealm Studios have recently revealed an official Mortal Kombat 11 trailer. And according to the new trailer, Mortal Kombat 11 will be epic. The game will see the world on April 23d, but you can preorder it now.
Meet the old and new characters
The trailer sends us back-and-forth to the rich history of Mortal Kombat constantly struggling universe. The favorite characters are coming back, together with a new one. Varies epochs collide together. So, this is our chance to play with legendary characters like Sonya Blade and Scorpion who appeared in the game in 1992 but also with Scarlet, who was introduced to players in the 2011 year.
In general, there are 26 characters, Shao Kahn including, who show their fighting skills on 17 arenas. It's still unknown whether the list of characters will be extended, but it is quite possible. Through various small trailers and gameplay videos, gamers have already noticed Kung Lao and Liu Kang. Let's remember our beloved characters:
Liu Kang was in the original team, together with Sonya Blade, and well-known Johnny Cage (who will join the cast of Mortal Kombat 11 celebrities as well). His story is one of the most complexed in this fighting game. He was an orphan, who lived and trained by Shaolin order. Raiden picked him to be Earthrealm's champion of Mortal Kombat and the defender.
Kung Lao appeared in the Mortal Kombat II. He is an ex Shaolin monk, and also a White Lotus Society, a former member. Kung Lao is also a good friend of Liu Kang. Together they fight against evil. His main weapon is his Oddjob's hat, which is really cool.
Skarlet is the creation of Shao Kahn, who used lots of warriors' blood during the process. So, it is only natural, that during her attacks she uses lots of blood. Her fatalities are known as the most gruesome.
Sonya Blade is an original character from the first Mortal Kombat. She is the officer in Special Forces, and her goal is capturing evil Kano. Her main weapon is Wind Blade and later Kali Sticks.
Major Jackson Briggs or simply Jax is a veteran of Special Forces in real life and the competitor for the championship in Mortal Kombat. After the first fights in the tournament, he understood that from now on his goal is to protect Earthrealm from Netherrealm and Outworld.
Kronika appears in the Mortal Kombat 11, as a time architect. She is a mother of Cetrion and Shinnok Gods. She remembers all the events of Mortal Kombat both timelines, but she never took part in it, until now. After Raiden fought Shinnok, her main goal is to restore the balance by resetting the time. Kronika is the 1st female main boss character and antagonist in this edition.
Cetrion is a much awaited new character. All we know is that she is a daughter of Kronika, sister of Shinnok. And surprise-surprise, she is an Elder Goddess. Her main power comes from nature and all its elements.
Kollector is another new character for us. We had the opportunity to see him in the trailer of Mortal Kombat 11. He has six arms and collects jewels. Kollector is an Outworld empire servant.
What's new with the gameplay?
As we can see from the trailer, the whole picture became more realistic, bloodiest and even more fascinating. Characters do not hesitate to use their superpowers and unique master skills with using blades or other weapons. There is a new system Fatal Blow in town, and it looks similar to X-Ray from the past editions of Mortal Kombat. However, it also has its differences. Fatal Blow allows you to make extremely powerful strikes, lowering down the health of your competitor below 30 percent.
There will be not one but two energy bars. One is for attack and another is for defense. The first one can be used to intensify strikes, and the second to use the nearby items. Developers have already confirmed that if you will block an attack, you can do the unique counterattack. There will also be a system of customization, as in Injustice 2, so you will be able to pick an outfit of your characters.
To download the app, you will get links to the Official Website and/or official digital markets.
What do think about this review?