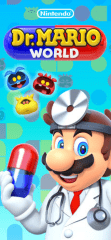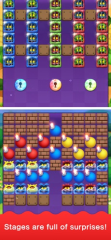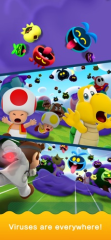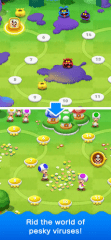 The description of Dr. Mario World
Did you know that Mario can eliminate viruses as well as kill goombas and toadies or collect mushrooms? The new Match-3 puzzle infuses some fresh blood into this stagnating genre. And who would think it would be our old Italian friend?
Nintendoctor
Dr. Mario World is suddenly a puzzle (what some might never expect after all these platforms and cart races). Viruses he is to destroy are elements in a Match-3 puzzle, and capsules he sends against them create combinations of 3 elements. The game seems to have gathered all the features from puzzles we already have, and you'll easily recognize these.
Mario is not the only character available (just like in other games featuring him). The entire familiar party is here, including Luigi, Princess Peach, Yoshi, and Toad, and each one has special abilities as a doctor. Say, Dr. Peach can randomly destroy entire columns, and Dr. Yoshi can as randomly remove three objects. This trick is here to upgrade the game's replayability, rather than service the fans.
The game is free, but you can pay for more bonuses and powerups like it usually happens. There is also life-based access: as you run out of lives, you need to wait until they recover. Restoration can be accelerated, if you pay or send requests to your friends. And, of course, there are diamonds as the game's internal currency, in case you need more capsules or powerups.
Capsule Match
The mechanics of the game is its special thing. Instead of regular Match-3 games where you need to swap elements, tap them, or select with a swipe, Dr. Mario World introduces a new element: a capsule that has to fit the elements. The capsule may be single- or two-colored. While it moves to the viruses it has to destroy, you may turn it around (like blocks in Tetris), to have it pass through obstacles.
The further you go, the more new elements the game has. There will be locks to open, bombs to explode, rainbow capsules that match all colors, and many more helpful items. Levels are structured into five worlds, each with their own styles and extras. Those sick of Candy Crush Saga or Best Fiends can hold their breath: the genre finally has something new.
To download the app, you will get links to the Official Website and/or official digital markets.
What do think about this review?